Franchising
Expected Costs
The initial investment level required as a Firespring franchisee ranges from $41,500 to $159,500 (usd), with a minimum cash requirement of $50,000 (usd). It will also be necessary to have or obtain living expenses for at least 12 months.
Benefits of joining the Firespring network: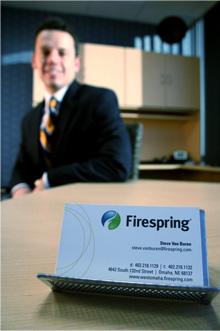 Protected territory with expansion incentives

Site selection assistance and lease negotiation advice

Assistance with decor, furnishings and signage

Intensive orientation and ongoing training programs

Proven sales, marketing and advertising programs

Accounting, sales management and crm systems

Qualified business prospects in your territory

Access to wholesale Firespring products and services

Buying power via contracts with preferred vendors

Management, sales and marketing consultation

Dedicated in-field representation by region

Extensive support services and training for your clients

Global website and dedicated presence for your location

Ongoing research and development
Our marketing and website development experience will provide you with the necessary support to help you achieve your professional goals.
The communications made through this website should not be construed as an offer to sell a franchise. No franchise will be sold until the offering has been duly registered and the required Franchise Disclosure Document (fdd) has been delivered to the prospective franchisee before the sale in compliance with applicable law.